A soapy Yorkshire producer turns their handmade square soap bar, into a thriving circular business
Based in the Circular Economy Yorkshire town of Malton, Cosy Cottage Soap produces a range of plant-based, additive-free soaps and skincare products – all handmade and wrapped in biobased or recyclable packaging.
Clara Challoner-Walker, founder and owner of Cosy Cottage Soap, started making soaps in 2016 from the kitchen of her 350-year-old cottage in Ganthorpe, York. Clara had questioned the need for the list of chemical additives found in everyday skincare products and the potential long-term harmful effects these were having on our health and the environment. Using her knowledge as a qualified chemist and an associate of the Royal College of Science, Clara started developing her own range of naturally derived, additive-free, soaps and skincare products.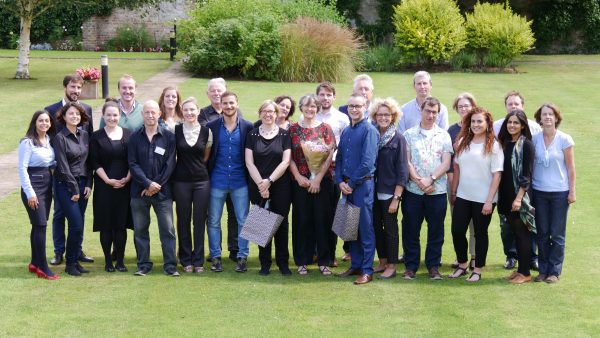 Clara from Cosy Cottage Soap (5th from the right, front row) with the organisers and participants at the BioBase4SME Innovation Camp.
With Clara's strong business vision, backed by a dedicated production team and some Yorkshire grit, this winning combination has seen Cosy Cottage Soap transition from its roots at the kitchen table to the successful and thriving skincare brand it is today. Ongoing support from BioVale and funded processing support from the Biorenewables Development Centre (BDC), has helped to accelerate this growth.
Skills and network development
Clara was awarded a delegate seat at the BioBase4SME Innovation Camp, 2017 – a week-long intensive entrepreneur training programme delivered by BioVale. The "bio boot-camp" provided a stimulating forum for networking with other business leaders to share their business experiences, successes and failures in a safe space, with support from regional business growth mentors.
Free membership to BioVale provides ongoing networking opportunities for Cosy Cottage Soap, bringing together a cluster of bioeconomy businesses to make new business connections across Yorkshire, the UK and internationally.
Clara, the founder of Cosy Cottage Soap adds: Of the BioVale workshops that stand out for me, it's the natural ingredients for flavours & fragrances, hosted by Croda, the Introduction to Beekeeping, hosted by Abelo's Beekeeping Academy and the annual BioVale Members' event. It's events like these, that really help us expand our network of suppliers and bring in new ideas for product innovation. A great example is the Cosy Cottage beehive! which now supplies honey and beeswax for some of our non-vegan products.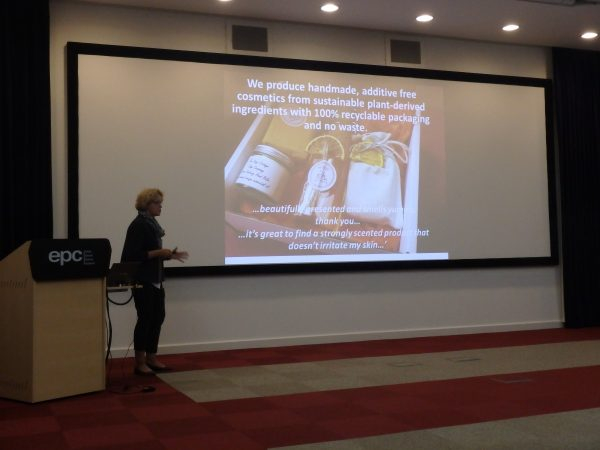 Clara from Cosy Cottage presents at the BioBase4SME Innovation Camp
Integrating local supply chains to grow a successful circular economy business  
Cosy Cottage Soap is dedicated to a circular economy ethos. The company has been working with several local food producers to source natural, plant-derived ingredients for their products. With the introduction by BioVale to a Harrogate-based organic fruit and vegetable shop, Cosy Cottage is developing new products using surplus fruit and vegetables as a source of natural fragrances for their products. Similarly, a partnership with a local café now supplies the company with spent coffee grounds, as an ingredient for body scrubs. Clara has also helped develop the next generation of Yorkshire business entrepreneurs, through her mentoring support with the THYME Project workshops and has inspired the creation of educational soap-based activities, to bring the bioeconomy into schools.
Scaling up the production process 
Cosy Cottage Soap ethical business model is supported through a service supply partnership with Croft Community.  This has since developed into a sustainable hand wrapping service for the company's premium bar soaps. As the demand for products and sales has grown, Clara has focussed her attention on scaling-up the production process while maintaining the product's handmade quality and appearance. This is where the BDC has provided support through their Bioeconomy Growth Programme, to accelerate the process scale-up and optimisation steps.
Alice North, Project Manager at BioVale, summarises the support the BioVale team can offer Yorkshire businesses: Cosy Cottage Soap is a fantastic example of the ongoing support that BioVale can offer businesses in terms of networking, training and development and supply chain introductions.
Helen Shiels, Business Development Manager at the BDC adds: Supporting Cosy Cottage to standardise the scale up of their processing manufacturing, has been a great fit for our technical team and the BDC's process development services. This is a great example of how we can work with a business to accelerate their growth.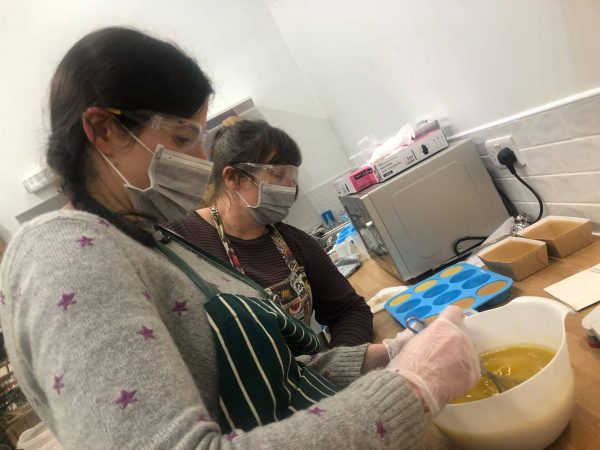 Soap making workshop at Cosy Cottage HQ in Malton
Soap making workshop at Cosy Cottage HQ in Malton
Going for growth
 And the growth journey doesn't end here. Cosy Cottage now delivers soap making workshops at their production and retail site in Malton, as well as soap making craft kits that can be set up and made from home – great gift ideas for friends and family at Christmas.
The company has also launched a new range of pet care washing and grooming products, dishwashing soaps and a free-from deodorant product – all made from plastic-free, natural ingredients, hand wrapped in fully recyclable or compostable packaging.
Note to editors:
The BDC and BioVale are part-funded by the England European Regional Development Fund as part of the European Structural and Investment Funds Growth Programme 2014-2020
THYME (Teesside, Hull and York – Mobilising Bioeconomy Knowledge Exchange) is a Research England, Connecting Capability Fund project, bringing the Universities of York, Teesside and Hull, together with the Biorenewables Development Centre and BioVale, to grow and promote the bioeconomy in the North of England.
The project BioBase4SME was funded under the Interreg NWE program. Interreg North-West Europe (NWE) is a European Territorial Cooperation Programme funded by the European Commission with the ambition to make the North-West Europe area a key economic player and an attractive place to work and live, with high levels of innovation, sustainability and cohesion. It invests EUR 370 million of European Regional Development Fund (ERDF) in activities based on the cooperation of organisations from eight countries: Belgium, France, Germany, Ireland, Luxembourg, The Netherlands, Switzerland and the United Kingdom.