From agricultural by-products to one of the UK's first circular food & beverage brands
Conscious Co is a Yorkshire-based collaborative, set up by a team of innovative entrepreneurs to produce a truly sustainable hand crafted gin, with other spirits and foods soon to expand the range. The team at Conscious Co believe in the Circular Economy ethos and want to help us all move from a linear economy to a circular economy, to tackle the challenges of agri-food waste by-products and their contribution to climate change.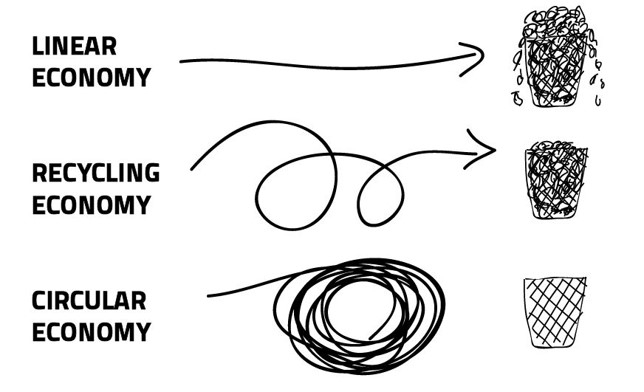 Circular Economy concept (Photo credit: York, North Yorkshire and East Riding LEP, https://www.businessinspiredgrowth.com/circular-yorkshire/ )
In June 2019, Conscious Co launched the first batch of their premium hand crafted Conscious Gin.   The unique bit about the Conscious Gin is the base spirit – produced from the farms out-of-spec chipping potatoes, normally seen as a waste in the agricultural supply chain, but perfect with a bit of innovative processing and distilling, for making a premium small-batch sustainable gin spirit.
The team at Conscious Co, enlisted the support of the BDC to help with optimising the solid-liquid separation of the 'leftover residual solids' in the Potato Wort, before the fermentation stage.
Funded through the BDCs Bioeconomy Growth Programme – Darren and John, in the BDCs process development team, conducted a series of separation trials using the BDCs Lemitec MD-60 decanter centrifuge (throughput ~15 L / hr). The trials demonstrated the solid-liquid separation process successfully and gave the confidence needed for the team at Conscious Co to approach commercial scale technology suppliers to source the right process separation equipment for their scale and type of operation.
Helen Shiels BDC Business Development manager commented: It was great to work with the team at Conscious Co, and to support this funded trial to establish the separation process works and provide a steer on the right type of separation equipment needed for the job.
Sam Weller, co-founder at Conscious Co, commented: It was good to be able to call upon the BDCs expertise and centrifuge equipment for this trial. Their input was vital to developing our process and ensuring we harvest maximum yields from our potatoes. We would love to work with them again to explore what other exciting products we can make from unloved fruits and vegetables.