Mapping the circular personal care ecosystem for Yorkshire
Dr Anna Alessi, Project and Communications Manager at the Biorenewables Development Centre has published a report on the circular personal care ecosystem for Yorkshire, following a successful completion of the Design Ecosystem Fellowship supported by the Future Observatory programme and funded by the Arts and Humanities Research Council.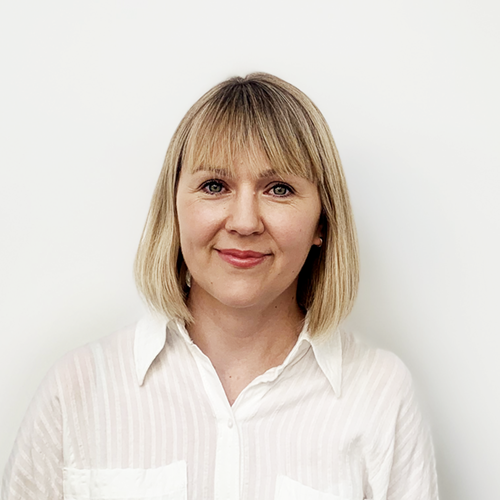 The personal care product ecosystem is a vibrant and thriving sector of the UK's economy with a value of £8.5 billion (2021). The industry is fast-moving, trend-driven but is under pressure to reduce its adverse impact on the environment. Many companies have set ambitious goals to reach net-zero emissions and play a leading role in a low-carbon economy transition. Growing customer demand for transparency and sustainable cosmetic products is supported by the introduction of new policies and environmental management systems to implement circular economy principles to the business models.
Mapping an ecosystem is a powerful tool that can be used by different stakeholders as a catalyst to develop new or strengthen existing collaborations, find knowledge and resources, impact decision-making, identify new opportunities for actions and drive policy changes.
The research gathered information through the extensive review of current trends and technological advances that will benefit future research projects. The stakeholder engagement showed that Yorkshire can offer a comprehensive ecosystem for the personal care sector ranging from ingredients suppliers, natural raw material producers, and formulators/ contract manufacturers to academic research in green chemistry, biotechnology, testing facilities and business support. The research identified players whose actions focus on implementing strategies to minimise environmental impact by switching to bio-based resources, novel packaging solutions and product designs, collaborating with local producers and ingredient suppliers, and investing in renewable energy for manufacturing facilities. With help from designers at the Beyond Words Studio, a digital dashboard (see below) was built to visualise the main components and the role in the ecosystem.
The study also identified innovation gaps such as the development of high-value bio-based ingredients using industrial biotechnology and novel production systems such as controlled environment agriculture that would benefit the personal care ecosystem in obtaining more sustainable ingredients.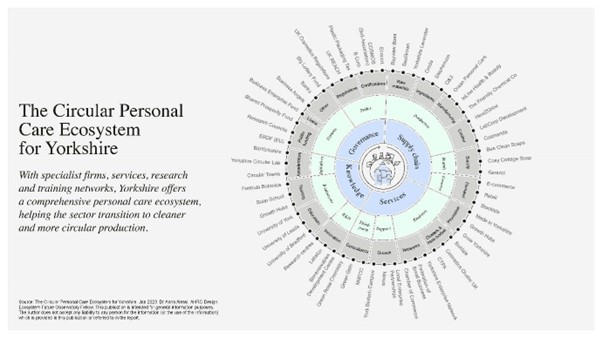 Anna commented: "This fellowship enabled me to engage with a wide group of the personal care stakeholders. The funding allowed me to gain new skills in ecosystem mapping, visualisation and market research and provided ideas for innovation driven framework that the Biorenewables Development Centre's capabilities in biorefinery could support."
The full report on the Personal Care Ecosystem for Yorkshire can be found here.
For more information, please contact Dr Anna Alessi at anna.alessi@york.ac.uk
Personal care sector worth £8.5 billion (2021)
Note to editors:
The Design Ecosystem Fellowships report was commissioned by Future Observatory. Future Observatory is a national programme for design research supporting the UK's response to the climate crisis. The three-year programme is coordinated by the Design Museum in partnership with the Arts and Humanities Research Council (AHRC), which is part of UK Research and Innovation (UKRI).
The Biorenewables Development Centre (a subsidiary of the University of York) is an open-access Research, Development and Demonstration organisation working at the interface between academia and industry to develop, scale-up and help commercialise bio-based products and processes. It provides clients with innovative ideas to convert plants, microbes and biowastes into profitable, high-value, greener products. It also offers a broad variety of technical services using state-of-the- art integrated R&D facilities in the fields of chemistry and biology. The centre also supports businesses by delivering desk-based assessments (e.g. market research, facilitating connections across the bioeconomy sector, and helping companies to find value across their supply chain. Through its BioVale innovation cluster team it offers support to build partnerships or collaborations in the bioeconomy.