Turning the humble potato into high-value plant-based food ingredient
Millions of UK consumers are now choosing vegan and vegetarian-based diets driving demands for highly nutritional and balanced meat alternatives. As the UK sales continue to soar and are expected to be over £1.1 billion by 20241, the plant-based food revolution fuels cutting edge innovations.
The potato's balanced amino acid composition makes it an ideal ingredient for vegetarian and vegan foods
Lincoln-based agritech R&D company B-hive Innovations Ltd works alongside Branston to provide novel process for extracting nutritional ingredients for the vegetarian and vegan market.
B-hive Innovations have chosen potatoes to produce valuable, high-grade proteins. The potato contains less than 2% protein, but the balanced amino acid composition makes it an ideal ingredient for vegetarian and vegan foods.
The proof-of-concept project with the University of York Green Chemistry Centre of Excellence (GCCE) evidenced the feasibility of extracting the protein from potatoes.
Alison Wright, R&D Manager from B-hive Innovations commented: Consumers are aware of the healthy fibre and starch content in potatoes, but they don't always consider the protein fraction. Market research revealed there was a growing demand for UK-grown, clean-label, 100% plant-based ingredients, highlighting a commercial need.
Further, Innovate UK funding brought together a consortium of academic and industry partners to provide an integrated end-to-end group to address the process bottlenecks such as foaming or variability of the complex input materials.  The project aimed to optimise and scale up the process for converting low-value potatoes into clean-label functional protein for use in a wide range of food and non-food products.
With newly established pilot facilities at the BDC, the team scaled up the protein extraction process to 1-tonne batches and processed over 40 tonnes of out-of-spec and low-value potatoes and potato peels, demonstrating successful protein extraction. The gentle isolation method, developed during the study, produced a high-grade protein fraction. The material also met required physical functionalities – such as texture, taste and gelling properties which are all important as a food ingredient.
The project success has brought B-hive Innovations and Branston together to build a £6 million potato protein extraction facility in Lincoln. The work on the site started early this year. The plant will produce highly nutritious protein from potatoes using a process optimised during the Innovate UK funded project. The company aims to meet the growing demand for UK-produced plant-based proteins for vegetarian and vegan markets.
Darren Phillips, Technical Lead on the project said: This project has been really exciting for the BDC, taking a process developed at lab scale up to a fully functioning integrated pilot plant. Now seeing the commercial plant being built is really rewarding following all the hard work.
Alison added: We established the process following years of research resulting in gentle extraction of food-grade functional protein that is free from allergens. Our work has been made possible by the support of collaborative partners and funding from Innovate UK, which we are incredibly grateful for.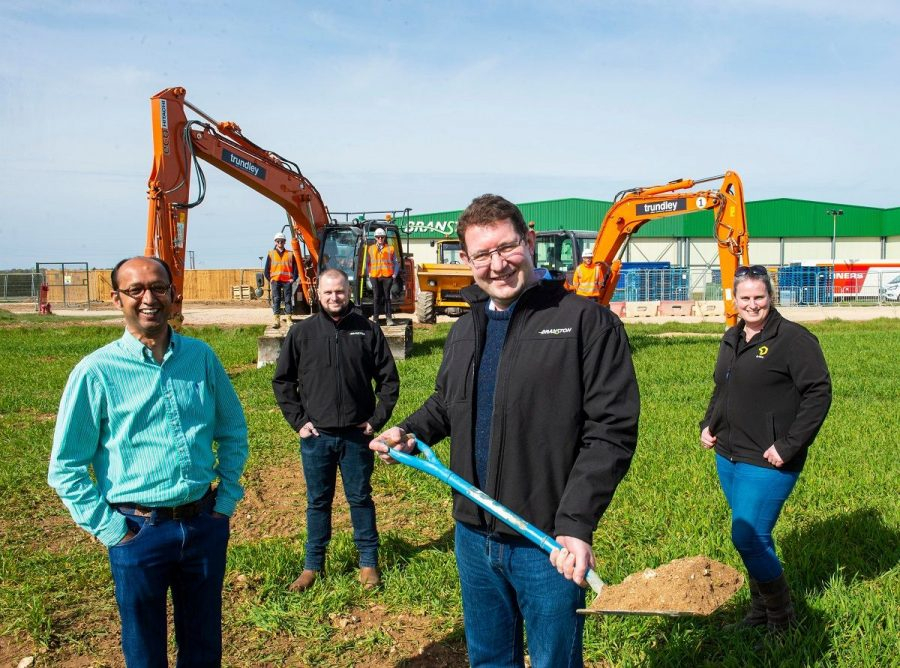 B-hive Innovations and Branston breaking ground for new potato proteins extraction plant. From left: Vidyanath (Vee) Gururajan, Director, B-hive Innovations, Tom Britton, Engineering Manager, Branston, Richard Fell, Managing Director, Branston, Alison Wright, R&D Manager, B-hive Innovations. Photo credit: Branston, 2021
The meat alternative market is expected to be worth £1.1b by 2024
Potatoes contain less than 2% protein
Project success - £6m potato protein extraction facility in Lincoln
Notes to editor:
This project (#103919) has received £956,027 of funding from Innovate UK.
The Biorenewables Development Centre is part-funded by England European Regional Development Fund as part of the European Structural and Investment Funds Growth Programme 2014 – 2020.
Logos: