BDC supports BindEthics to develop world's first glue derived from industrial bio-waste
Materials science Masters student from Esher co-founds the company behind the innovation.
Wins Armourers Venture Prize Award.
An innovative new adhesive, derived from purified and refined industrial bio-waste, should enable 90 percent of engineered wood products, such as furniture and construction boards, to become fully recyclable and helping to develop a sustainable circular economy in this sector.
Currently, formaldehyde adhesives used by manufacturers, are toxic petrochemicals that are carcinogenic in nature. This prevents recycling and incineration meaning most construction panels and furniture made from engineered wood ends up in landfill. The new adhesive, derived from extracted and purified waste is sustainable, non-toxic and possesses a step-change improvement in recyclability and circularity.
BindEthics, the sustainable glue company behind this innovation was founded by Maria Garcia, a chemist with an MSc in molecular design from the University of Amsterdam and Callum Smith a 21 year old materials engineer from Esher who is completing an integrated Masters (MEng Material Science and Engineering) at the University of Birmingham. BindEthics has won the Armourers & Brasiers Venture Prize seed funding award.
Callum Smith said:
Our glue is ethically sourced, has end-of-life biodegradability and has properties suited to replacing traditional formaldehyde adhesives. As well as being fully recyclable the glue can be produced with almost no additional cost to the manufacturer and has a carbon footprint that is 86 percent lower than traditional adhesives.
BindEthics first explored the possibility of a base formulation for their adhesive derived entirely from waste in 2021. This included the purification of industrial food waste by washing, filtration and centrifugation. High protein content and polysaccharides contribute to binding while other natural crosslinkers and bioderived solvents are present in the formulation. In 2022 preliminary trials conducted at the Biorenewables Development Centre (BDC) in York were backed up by analytical experimental studies enabling the development of the first minimum viable product. 
BindEthics is currently working with one of the three largest engineered wood companies in the UK and one of the UK's largest packaging companies for technical insight. The company has several Letters of Intent from relevant partners including a European distributor.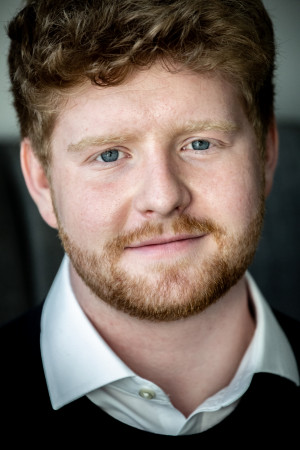 Callum said:
Our next step is to identify and conduct further commercial trials with companies which are currently using toxic and synthetic adhesives. A particular opportunity is with the corrugated board industry which is looking for alternatives to their starch-based adhesives which use borates, toxic substances imported into the UK. We are currently identifying companies using these starch-based adhesives, who wish to minimise their environmental impact, so they can trial our product.

BindEthics has received commercial, scale-up and lab-based support from the Biorenewables Development Centre in York under their European Regional Development Programme business assist scheme and Innovate UK.  Additionally, it is receiving network access, business space and financial aid from the University of Birmingham and Innovate UK which help accelerate the innovation.
The particle board industry in the UK alone currently uses 1000 tons per day of urea-formaldehyde adhesive valued at £388 million annually. Globally, the value of the urea-formaldehyde market is £9.5 billion. 


Julian Beare, Chairman of the Armourers and Brasiers Venture Prize judging panel said:
BindEthics is showing how research and innovation has the potential to improve the recyclability of modern furniture and construction panels. Our prize looks to encourage scientific entrepreneurship in the UK and provide funding to help innovative developments like this realise their potential.
Callum added: Our vision is that our new bio-adhesive derived from food waste will replace a range of adhesives used across industry. The initial focus is on replacing the formaldehyde-based glues used in the manufacture of engineered wood products, but we also envisage applications for our sustainable adhesive within the shoe and automotive industries.
About Armourers and Brasiers' Company
Alongside Julian Beare, on the judging panel were materials scientist and entrepreneur Professor Sir Colin Humphreys, and other members of the Armourers and Brasiers' Company with expertise in venture capital and commercialization of scientific research.
The Armourers and Brasiers' Company is a leading supporter of Materials Science education and research in the UK. Its Venture Prize is aimed at helping scientists commercialise the early stage research and the exploitation of new and exciting ideas. The Company also seeks to encourage education in science from primary to postdoctoral levels supporting schools and universities throughout the UK.